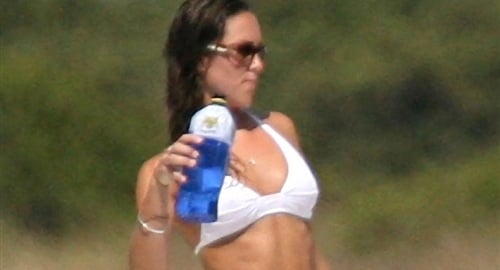 ---
Just a month before her wedding to Prince William, these bikini pictures of Kate Middleton have surfaced, sending shock waves through the royal family and much of England.
As you can see in the photos below Kate Middleton brazenly flaunts her nearly naked body on a yacht while wearing a bikini. No doubt this will seriously call into question her character and may end her engagement to Prince William.
The first thing the royal family will want to determine is if Kate Middleton's maidenhead is still intact. Obviously the midwife who examined her before the engagement was permitted could of been bribed or blind. After these pictures a more thorough examination is definitely needed.
As these bikini pictures show Kate Middleton is immoral and possibly a prostitute. If Prince William insists on going ahead with marrying her, the royal family will be forced to deal with her after the fact. Perhaps another "car accident" in a Parisian tunnel will do the trick. Regardless, of how it is done I don't see this ending well for Kate. Allahu Akbar!